How small business owners can prepare for big clients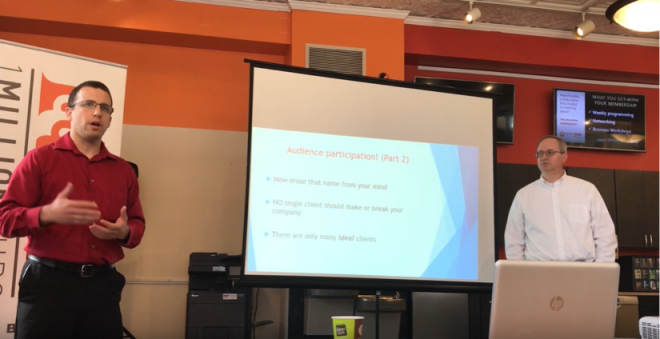 One of the biggest challenges which small business owners face is finding their ideal clients. In the embedded presentation (full version seen here), Proven Media Solutions CEO Dustin Siggins and Peden Accounting Services Principal Adviser Chris Peden explained to small business owners at 1 Million Cups Fairfax the four steps in getting those clients.
Identifying weaknesses in their company.

Is your name or brand wrong?
Do you have the wrong team?
Are your financials weak?
Are you going after the right target market?

Discovering solutions to the weaknesses.

Financial examples: Do you need to increase your prices or shrink your costs?
Target market: Are you fishing in the right pond with the right bait?
What needs to change within your team?

Investing in solutions.

Some solutions can be handled by the CEO.
Some solutions can be handled by a team member.
Some solutions must be outsourced.

Being patient and allowing solutions time to work.

There is no silver bullet to success.
Success takes time.
Success takes persistence in producing quality as you build credibility, experience, and a foundation for success.
Whether you're a small business owner seeking ideal clients or a non-profit seeking ideal owners, Proven Media Solutions can help you accomplish your goals. Check out the video and then contact us to get you on the road to success!
P.S. Be sure to turn your sound up!